SynerLeap once again awarded for its work with startups
Published: November 20, 2018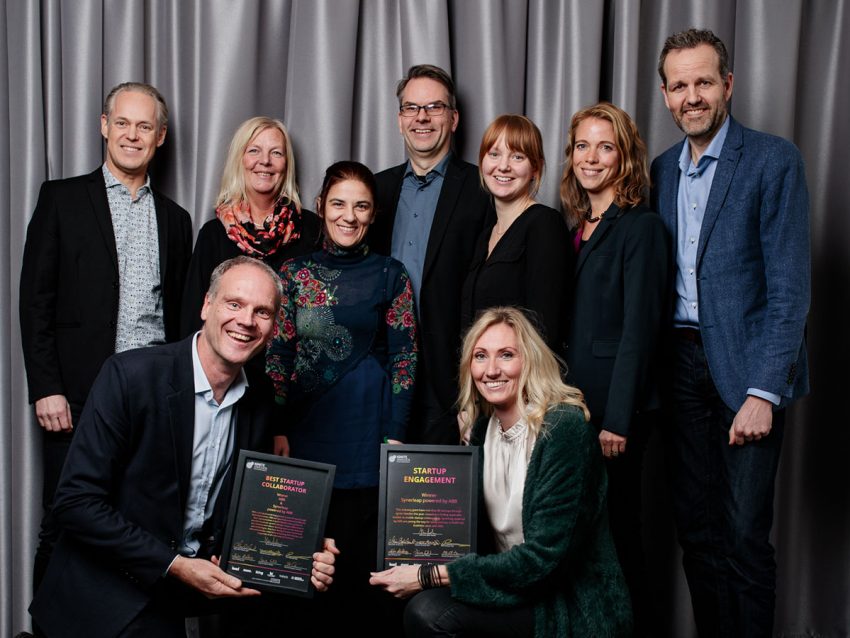 During Ignite Sweden Day on November 19 at Birger Jarl Conference Center in Stockholm, ABB's innovation growth hub SynerLeap was awarded for "Most active startup engagement and collaboration", for their work on meeting with startups and finding collaboration projects with ABB through 2018.
Once again, ABB and SynerLeap have been awarded for their work with startups. Last time was at the first Ignite Sweden Day in 2017. This year ABB and SynerLeap were awarded in not only one, but two categories; match-making and collaboration. The motivations were:
Startup Engagement: This industry giant has met more than 86 startups through Ignite Sweden this year. Investing in finding applicable models to enable startup collaboration, SynerLeap powered by ABB is paving the way for many startups to build real business cases with ABB.
Best Startup Collaborator: With a strong engagement to pave the way through internal processes, SynerLeap powered by ABB, ABB and their representatives in Ignite Sweden have proven it is possible to partner up with startups, despite differences in size, finances and culture. By being open to new ideas and new technologies, they have during this year entered into new partnerships; a key factor in keeping both startups and corporates in the international forefront.
"Ignite Sweden, headed by Stina Lantz, is a very well-organized project aiming at bringing Swedish startups and large corporations together into collaboration. It has once again been a privilege, as a cross-disciplinary ABB team, match-make with top-notch startups, where many have led to successful collaboration projects with ABB. This is truly the way to go to shorten innovation cycles and time to market," says an enthusiastic Peter Löfgren, Managing Director of SynerLeap.

"It's a pleasure to see that ABB's growth hub SynerLeap for the second consecutive year is awarded for its work with startups. We see increased cooperation between ABB and the companies that are a part of the SynerLeap family. Many thanks to all wanting to cooperate and create a future together with ABB. Thanks also to Peter Löfgren and the entire team at SynerLeap for making this possible," says Johan Söderström, CEO of ABB Sweden.

"SynerLeap powered by ABB have developed a platform inside ABB that really matters to startups. We have followed their journey since the beginning and are really impressed by the results that SynerLeap is starting to deliver now. For a startup, a commercial partnership with a large international corporate is more valuable than any other investments, and it also means a potential door to internationalization. And ABB is taking on a leading role for Sweden and our fantastic startups in this," says Stina Lantz, Program Manager Ignite Sweden.
SynerLeap represents one of a number of important links between the startup community and ABB. ABB Technology Ventures (ATV), ABB's strategic venture capital investment unit, partners actively with SynerLeap to see over 2,000 startup ideas every year and has invested nearly $200 million into start-ups spanning a range of sectors including robotics, drones, industrial IoT, AI and machine learning, cybersecurity and distributed energy. Together with SynerLeap, ATV is ensuring that startups at all stages have a clear entry point into ABB as well as proactive advocates working to maximize their success.
Also see the press release from ABB (in Swedish).
---
ABB (ABBN: SIX Swiss Ex) is a pioneering technology leader in power grids, electrification products, industrial automation and robotics and motion, serving customers in utilities, industry and transport & infrastructure globally. Continuing a history of innovation spanning more than 130 years, ABB today is writing the future of industrial digitalization with two clear value propositions: bringing electricity from any power plant to any plug and automating industries from natural resources to finished products. As title partner in ABB Formula E, the fully electric international FIA motorsport class, ABB is pushing the boundaries of e-mobility to contribute to a sustainable future. ABB operates in more than 100 countries with about 147,000 employees.
Ignite Sweden is a project aimed at creating more commercial partnerships between large companies and small innovative startups. The project began at the start of 2017. An important part of the project is to exchange experiences about the challenges of collaboration between large companies and startups. Behind Ignite Sweden are STING, LEAD, THINGS, MINC and UMINOVA. The project is run in collaboration with SISP, Swedish Incubators and Science Parks and is co-funded by Vinnova.
SynerLeap is a growth hub started by ABB in September 2016. It gives ABB access to innovative technology and growth-driven entrepreneurs while the SynerLeap startup companies are given the chance to get acquainted with ABB's networks, laboratories and knowledge. It creates an ecosystem where small technology companies can grow and expand on a global market in three areas: industry automation, robotics and energy.