Membership
As a member company of the SynerLeap growth hub you will have the chance to reach a global market and scale up your business
Becoming a SynerLeap member
Gain from a dedicated team, massive industry competence and complete infrastructure available at the ABB Corporate Research Center in Sweden.
No of companies per year
We are continuously scouting new members and are estimated to on-board around 40 of the world's top notch startups as SynerLeap members each year.
Fees
Membership fee
Duration and offering
You will begin with a 6 month Aspirant Membership to start testing your ideas, concept and technology in what we call a hunting phase where we will support you to find a suitable receiver within ABB where your offer could be applied.
After your Aspirant Membership there is a possibility to extend your membership and become Full Member.
The aim is always win-win for all parties involved.
You will:
Get our support to identify a collaboration project inside ABB.
Get the chance to work in a modern collaborative space embedded in the core of ABB:s research facility in Västerås
Evaluate a potential collaboration as a full member going forward
Access ABB:s experts from R&D and the global business organization
Get access to world class laboratories at ABB Corporate Research
Meet ABB:s customers together with ABB
Access the SynerLeap network of partners and member companies
Participate in events and workshops arranged by SynerLeap, ABB and our partners
Increase your visibility and network through visits by public officials, venture capitalists, media and more
Possibility to get funding from ABB Technology Ventures
What startups should bring to the table
A strong willingness to collaborate, both with ABB, other startups and with our external eco-system.
A fast-growing potential in the area of industrial digitization with technologies that influence the future of how we power, produce, work, live and move

future of safe, smart and sustainable electrification
safe and smart operations
flexible manufacturing and smart machines
smart motion

PoC, or potential customers already in place with a potential to scale up
A clear and solid IP and business strategy
Preferably raised already seed round
Leave no stone unturned in the hunt for a collaboration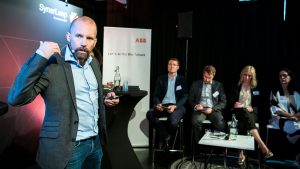 If you think a membership in SynerLeap would be valuable for your startup, please fill in the form below.