MyVox joins SynerLeap to further accelerate industrialization
Published: October 29, 2018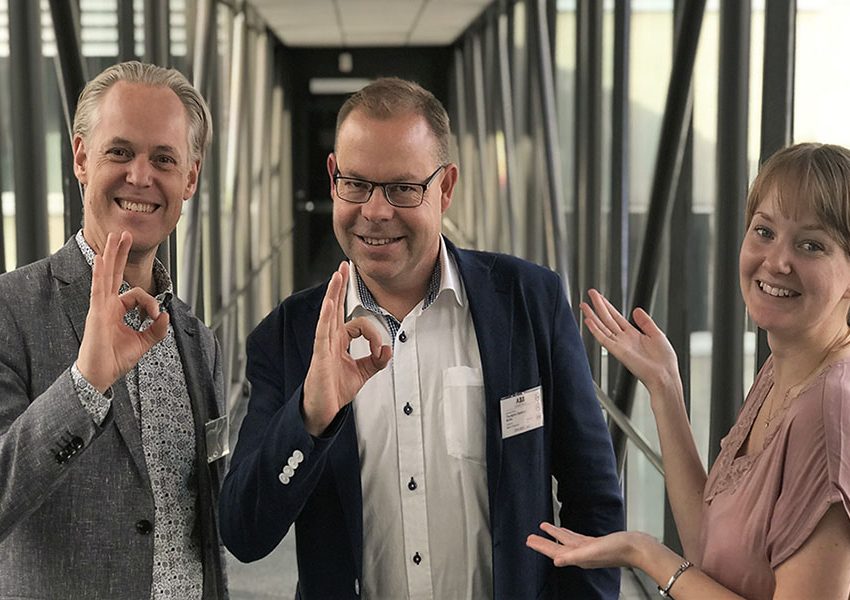 This start-up is aiming to accelerate the industrial use of innovative contact-free HMI and MMI ultrasound technology. Through SynerLeap, MyVox will get access to expertise within the robotics, automation, and Industry 4.0 application fields and support to build a stronger industrial ecosystem.
MyVox disruptive 3D micro-acoustic platform currently has two main branches, HMI interfacing with hand gesture recognition combined with haptic feedback and MMI micromanipulation of small objects in robotics. Their unique expertise in MEMS-based ultrasound transducers (MUT) and advanced software algorithms for 3D acoustic beam steering is well suited for rough industrial environments were non-contact interaction is needed.
The innovative 3D acoustic platform aims to fundamentally improve the Human-Machine Interaction in the automation and transport sectors as well as many other industry segments. The MEMS transducers allow two way HMI communication between technology and humans with a scalable platform allowing a 75% reduced form factor, 60% less energy consumption at a cost less than a ¾ of the non-MEMS ultrasound state of the art HMI technologies available today on the market.
"We foresee a great collaboration with SynerLeap that will facilitate the commercialization of micromachined ultrasound platform in robotics and automation. Having access to ABB's engineering expertise, product portfolios, robotics lab, and extensive network that naturally match our interest will certainly accelerate our development. We look forward to leveraging these resources to further advance our products and create value for our customers and business partners through new opportunities in novel HMI / MMI areas that certainly will arise from the ecosystem around the ABB Group and the SynerLeap companies", says Thorbjörn "TOBY" Ebefors, COO and co-founder of MyVox.
Myvox provides customization services for its 3D ultrasound platform primarily to the automation and transportation industries, with the aim to improve the customers processes through MyVox own expertise in 3D ultrasound development. MyVox generic platform and tailor-made 3D acoustic solutions create value by contact-free manipulation of objects and humans in a variety of fields.
"MyVox is a really interesting company with super cool technology. I'm impressed by their determination of doing things and I think they will add great value to our growth hub", says Camilla Kullborg, Head of Automation & Robotics at SynerLeap.